MUSASHI Portal dispensing robot CrossMaster
---
CrossMaster SX
4 Variants
Interpolation of all 3 axes
Z-Hub 150mm
Axle speeds up to 500mm/s
Repeatability +/- 0,01mm
Tool weight bis 2,5kg
---
CrossMaster OX
4 Variants
Interpolation aller 3 Achsen
Z-Hub 150mm
Axle speeds up to 500mm/s
Repeatability +/- 0,005mm
Tool weight bis 2,5kg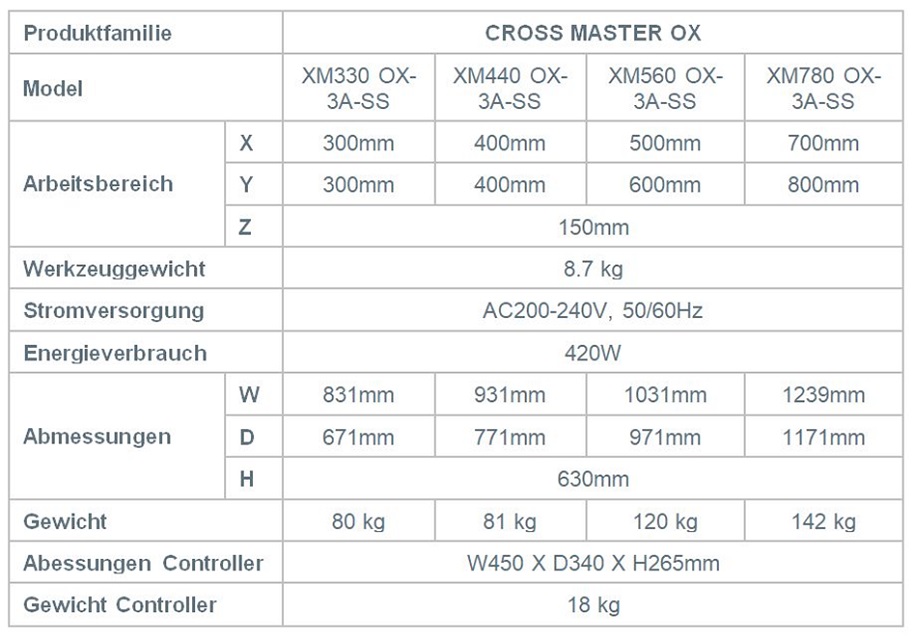 ---
Image Master 350PC Smart
The CrossMaster OX is also available with vision system and laser sensor for 3D measurement.
The Image Master 350PC Smart version reduces the setup effort to the absolute minimum and is ideally suited for development departments or production, when the geometry of the parts requires to measure the geometry before dispensing. Another area of application is dispensing objects where the geometry tolerances and dispensing requirements require the object to be measured before dispensing.
Touchpanel PC
Zero point correction
Mapping function
3D Alignment / profiling function
Integrated length measurement for evaluating the dispensing results
---
Do you have any questions? We will be happy to advise you. Please send us your inquiry to info@atn-berlin.de.