MUSASHI Portal-Dosierroboter CrossMaster
---
CrossMaster SX
4 Varianten
Interpolation aller 3 Achsen
Z-Hub 150mm
Achsgeschwindigkeiten bis 500mm/s
Wiederholgenauigkeit +/- 0,01mm
Werkzeuggewicht bis 2,5kg
---
CrossMaster OX
4 Varianten
Interpolation aller 3 Achsen
Z-Hub 150mm
Achsgeschwindigkeiten bis 500mm/s
Wiederholgenauigkeit +/- 0,005mm
Werkzeuggewicht bis 2,5kg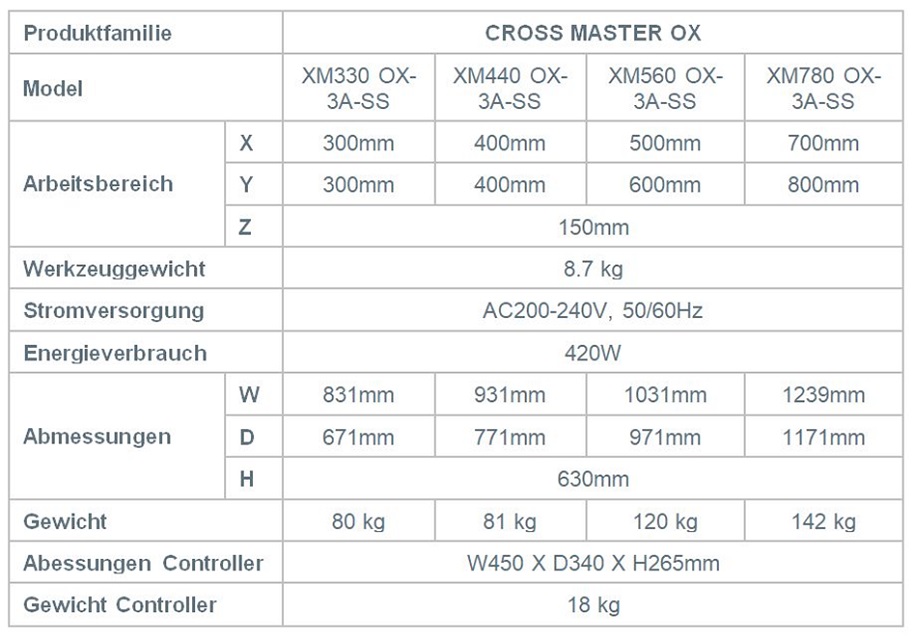 ---
Image Master 350PC Smart
Den CrossMaster OX gibt es auch mit Visionsystem und Lasersensor zur 3D-Vermessung.
Die Version Image Master 350PC Smart reduziert den Einrichtaufwand auf das absolute Minimum und ist optimal geeignet für Entwicklungsabteilungen oder die Produktion, wenn die Geometrie der Teile erfordert, die Geometrie vor dem Dosieren zu vermessen. Ein weiterer Einsatzbereich sind Dosierobjekte, bei denen die Geometrietoleranzen und die Dosieranforderungen es erfordern, das Objekt vor dem Dosieren zu vermessen.
Touchpanel-PC
Nullpunktkorrektur
Mapping-Funktion
3D Ausrichtungs- / Profilier Funktion
Integrierte Längenmessung zur Bewertung der Dosierergebnisse
---
Do you have any questions? We will be happy to advise you. Please send us your inquiry to info@atn-berlin.de.