MUSASHI Jet Dispenser
---
One dispensing method that is becoming more and more important due to its advantages is jetting. The material to be dispensed is pressed into the dispensing chamber with uniform pressure. There, a moving piston accelerates the paste / medium and flings the material through the nozzle onto the substrate, similar to an inkjet printer. Depending on the material to be dispensed, the working distance can be several millimetres. Since there are no dispensing needles, the process is robust against height tolerances. The dispensed quantity is determined solely by the dispensing chamber, the mechanical and the number of dots to be dispensed and is therefore precise and reproducible.
---
Dispensing devices
AeroJet
Very fast jet dispenser, 330 dot/s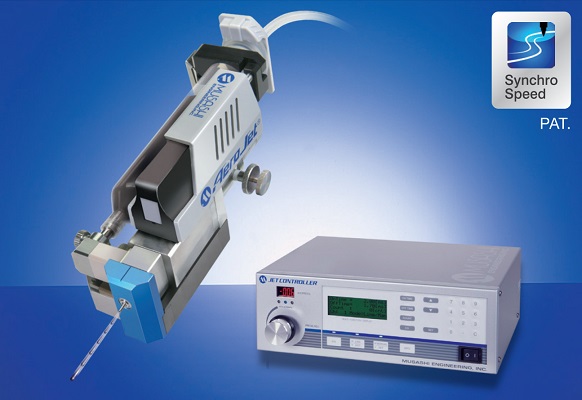 Also suitable for solder paste
High speed dosing of medium to high viscosity materials
MUSASHI's jet mechanism ensures ultra-small spot metering
High repeatability and reproducibility when dispensing
Equipped with valve temperature control as standard
SuperHiJet
Jet dispensers for highly viscous media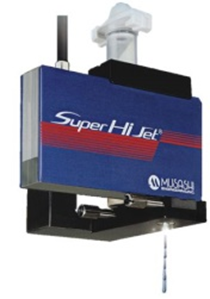 For a viscosity range of up to 1.000.000 mPa*s
With piezo technology
Precise application control
Plunger exchangeable
Easy maintenance
Compact design. Can be used with multihead systems
Designed for use with UV, solder paste, silicone and other materials
CyberJet
Very fast jet dispenser, 330 dot/s
High-speed dispensing of low-viscosity materials
Minimal contamination with the medium to be dispensed
High repeatability and reproducibility when dispensing
Optionally with mixing devices for dispensing emulsions
---
Do you have any questions? We will be happy to advise you. Please send us your inquiry to info@atn-berlin.de.