MUSASHI dispensing systems overview
---
ATN Automatisierungstechnik Niemeier GmbH, based in Berlin, is the authorised sales and service partner for MUSAHSI dosing systems in Germany.
MUSASHI Engineering, Inc. from Japan, one of the leading manufacturers for dosing technology, offers a broad product portfolio. From manual dosing devices to complex dosing systems in automated plants and as one of the few manufacturers also the plants themselves. These range from table-top dosing robots and gantry systems for integration to complete inline systems and production lines. In addition, MUSASHI also manufactures the consumables that
Dispensing needles and cartridges, as well as hoses and sealing plugs. This ensures high precision and quality throughout the entire dosing technology process chain, from from the dispensing needle to the complete dispensing system.
The following dosing unit types are available:
Pressure-time dispenser (AirPulse Dispenser)
Jet-Dispenser
Mechanical dosing units (volume dosing units)
Dispensing valves
In addition, the following machine platforms are available for automation:
Table robot ShotMaster
Portal robot CrossMaster
Inline machines FA-Machines
---
Pressure-Time-Dispenser (AirPulse Dispenser)
One of the most universal and widespread dosing principles is the pressure-time system. Here, the material to be dispensed is supplied in cartridges. Dispensing takes place via a pressure pulse on the material surface inside the cartridge. The air presses on the material and pushes it through the dosing needle onto the dosing point. For this purpose, an electro-pneumatic valve "switches through" the compressed air applied from outside for a short period of time.
SuperSIGMA
ML808GX
ML5000
MS-1
---
Jet-Dispenser
One dosing method that is becoming increasingly important due to its advantages is jetting. The material to be dispensed is pressed into the dispensing into the dosing chamber. There, a moving piston accelerates the medium and flings it through the nozzle onto the substrate, similar to an inkjet printer. inkjet printer. Depending on the material to be dispensed, the working distance can be several millimetres.
Since there are no dispensing needles, the process is robust against height tolerances. The dispensed quantity is defined solely by the dosing chamber, the mechanically adjustable piston stroke and the number of dots to be dispensed and is therefore precise and reproducible.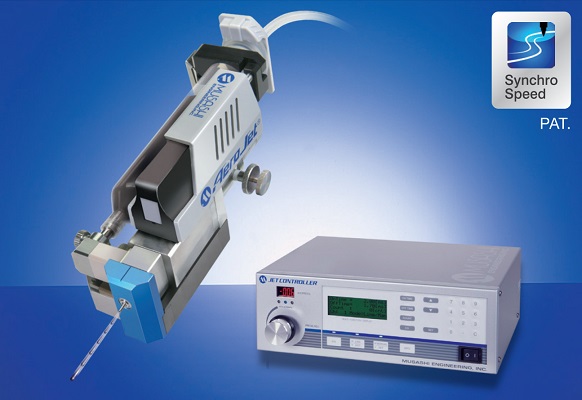 AeroJet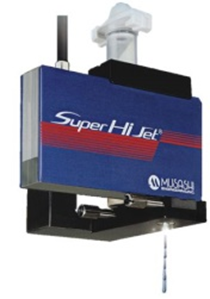 SuperHi-Jet
Cyber-Jet
---
1C-Dispenser
Mechanical dispensers are suitable for media with fillers or high viscosity. Depending on the application and material properties, screw feeders are suitable, piston feeders, screw feeders.
MSD3
MohnoMaster
MPP1/MPP3
SMP
---
2C-Dispenser
There are a variety of 2K dispensing media. For high-precision applications, the two components are premixed externally (pre-mix) and then processed within the pot life. processed. No-mix adhesives and media and systems with activator can be dispensed with jet dispensers. Applications with higher material application are dosed with dispensed with two mechanical dispensers and mixed in a static mixer directly during dispensing.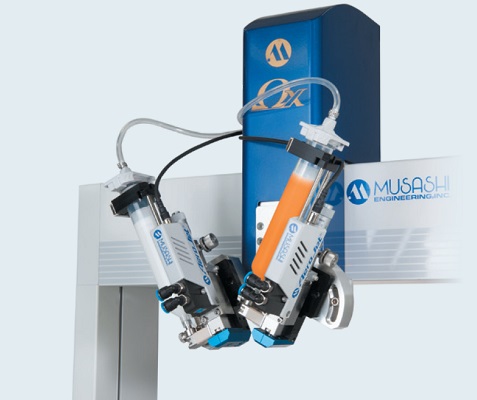 AeroJet-2K
MPP3-2K
Mohno-2K
ML-808
---
Table dispensing robot
Dispensing robots, table robots or TableTops, have several areas of application: from process validation in the laboratory to small-batch production and series production. with individual stations in the lean concept (Chaku-Chaku).
ShotMini 100s
ShotMaster SX/OX
Image Master 350PC Smart
mit 3D-vermessung

Housing for ShotMaster SX/OX
and Image Master 350PC Smart
---
Portal dispensing robot
The gantry robots from MUSASHI can be mounted on automatic units and are therefore also ideally suited for use in inline systems. ATN supports you in the selection and integration.
CrossMaster SX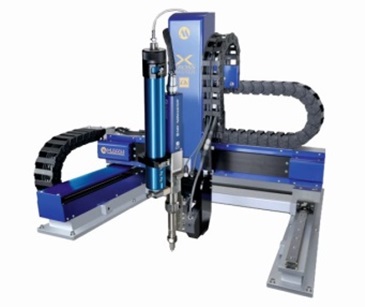 CrossMaster OX
---
Inline dispensing machines
Musashi also offers inline dispensing systems for the production of large series. Due to the standardised interfaces, the dispensing systems can be equipped with all dispensers and dispensing systems. dispensers and dispensing systems.
ATN CrossMaster M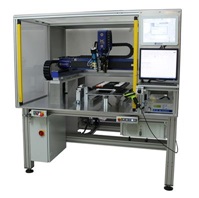 ATN CrossMaster XL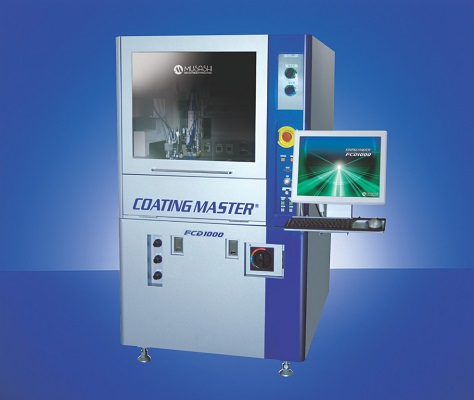 FCD1000 CoatingMaster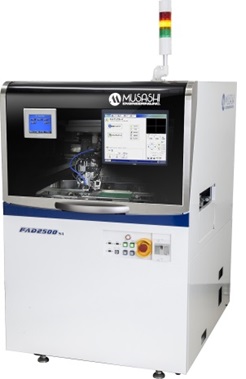 FAD2500 DispensMaster
---
Dispensing systems for medicine and biotechnology
High-precision dispensing technology for biotechnology, medicine and drug development.
JetSpotter
SpotMaster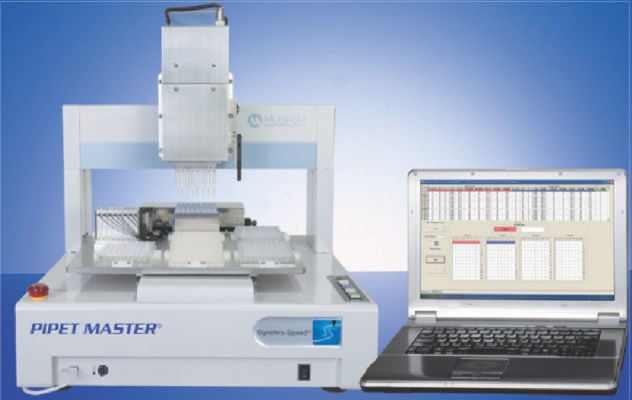 PipettMaster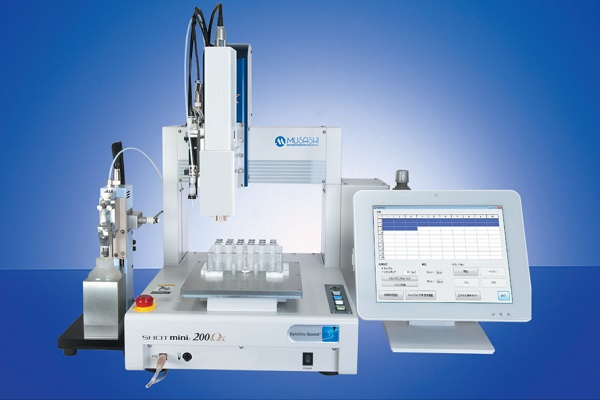 Filling Systems
---
Consumables
MUSASHI as a manufacturer of precision dispensing systems also offers a matching cartridge and dispensing needle system. The accessories from MUSASHI are conceptually and variable, thus enabling a consistently high precision in the dispensing results.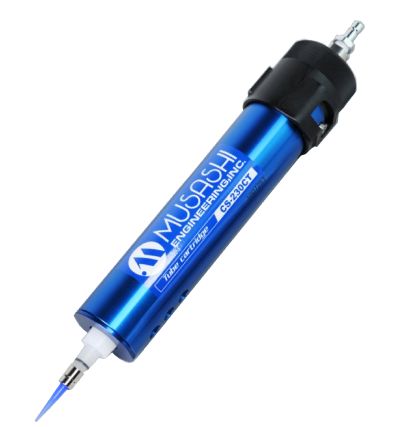 MUSASHI Large cartridges
MUSASHI Flat nozzles
---
Do you have any questions? We will be happy to advise you. Please send us your inquiry to info@atn-berlin.de.