MUSASHI 2C Dispenser
---
There is a wide range of 2C media. For high-precision applications, the two components are premixed externally (pre-mix) and then processed within the pot life. No-mix media and systems with activator can be dispensed with jet dispensers. Applications with higher material application are dosed with two mechanical dosing units and mixed in a static mixer directly during dispensing.
---
Dispensing devices
Pressure time Dispenser ML-808
For PreMix adhesives
Dispensing directly from the cartridge
Automatic parameter adjustment
Precision applications for 2C media are mostly realised in the PreMix process. The two components are mixed and then filled into a cartridge. Afterwards, dispensing is carried out from this cartridge before the two components react with each other and harden. Depending on the medium, this so-called "pot life" can be up to several hours. If necessary, the material is shock-frozen and can be stored at -40° C for longer. The following are suitable for dosing PreMix media Pressure-time dosing units, as dosing takes place directly from the cartridge.
---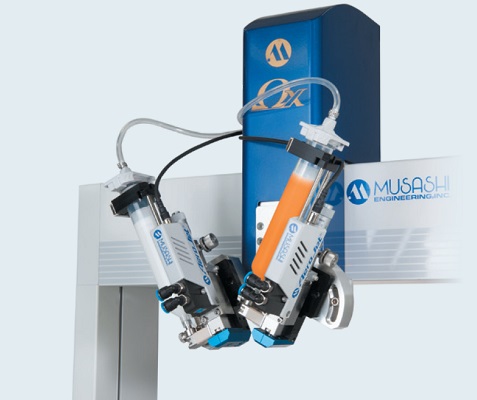 Jet Dispenser AeroJet-TWIN
For no-mix adhesives or adhesives with separate activator
Two AeroJets: different viscosities possible
Mixing directly during material application
In the case of no-mix media or media with a separate activator, the two components are dosed by two separate jet dispensing systems and are thus only mixed directly at the dispensing point. mixed directly at the dosing point. Dispensing can take place synchronously or one after the other.
---
Volume dispenser MPP-3 DUO
with static mixer
Precise dispensing even for highly viscous material
Any mixing ratio can be set
Low wear even with abrasive material
Different variants
Two MPP volume dispensers convey the material to the static mixing tube where the two components are mixed. Due to its special design the MPP is particularly suitable for abrasive materials.
---
MUSASHI Screw dispenser MohnoMaster DUO
with static mixer
Precise dispensing even for highly viscous material
Large dispensing quantities with uniform material flow
Any mixing ratio can be set
With the MohnoMaster, the material is conveyed by an eccentric screw. This creates a uniform flow of material, so that even larger quantities can be evenly conveyed and metered evenly. The parameters can be set independently for both components. Mixing takes place in a static mixer.
---
Do you have any questions? We will be happy to advise you. Please send us your inquiry to info@atn-berlin.de.